Министерство туризма Доминиканской Республики на выставке «ATM 2019»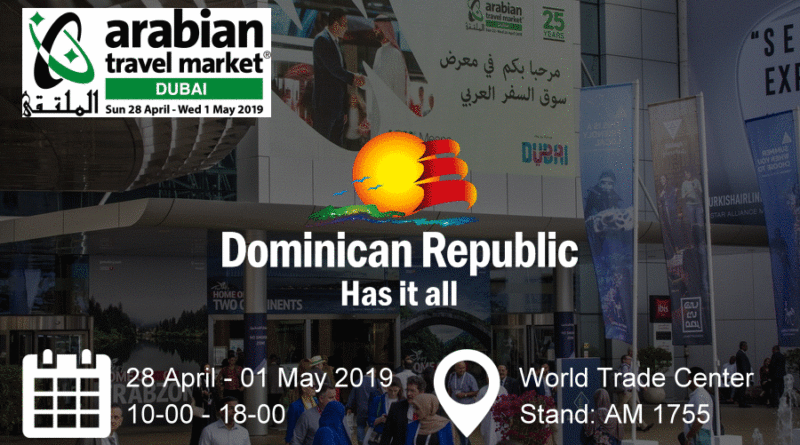 ATM 2019
Arabian Travel Market is the global meeting place for the travel trade
Arabian Travel Market is the market leading, international travel and tourism event unlocking business potential within the Middle East for inbound and outbound tourism professionals. Tourism destinations from around the world showcase a diverse range of accommodation options, breath taking tourism attractions, travel technology and key airline routes.
What is Arabian Travel Market?
Arabian Travel Market (ATM), is the leading global event for the Middle East inbound and outbound travel industry for the last 25 years. The event generates more than $2.5 billion of travel industry deals.
The annual business-to-business (B2B) exhibition showcases over 2,800 products and destinations from around the world to over 28,000 buyers and travel trade visitors across four days at the Dubai International Convention and Exhibition Centre (DICEC).
Over 39,000 travel professionals, government ministers and international press, visit ATM every April to network, negotiate and discover the latest industry opinion and trends at Arabian Travel Market.
Beyond the event we continue to help professionals in the Arabian travel industry to drive commercial success with all year round opportunities to make connections and access to industry news and developments, trends and technologies from around the world. Through our industry networks, global reach and regional focus, ATM creates personal and business opportunities providing our customers with quality contacts, content and communities.
Here are some of the key reasons to attend ATM…
Meet new and established international suppliers, ATM is a truly international event serving the Middle East travel industry.
Discover industry leading knowledge, including global trends, innovations, research, insight and topical debate.
Gain expert advice from global specialists.
Be inspired by the latest innovations.
Expand your knowledge & keep up-to-date with the latest travel trends.
Dominican Republic Ministry of Tourism
Stand: AM1755
The Dominican Republic is an ideal exotic destination for FIT, VIP, groups. We offer 70000 hotel rooms, the hotels dispose of perfect meeting facilities. The mild tropical climate year round, world renowned beaches, 8 international airports, exquisite gastronomy, world historical and cultural heritage, shopping and nightlife are our highlights.
Also at AM1755:
— Be Live Hotels
Be Live Hotels belongs to Globalia, the first Spanish tourism company.
We have a network of accommodation within the 4 and 5 star range in prime locations, and we make an effort to create unique experiences, for which we have 31 hotels distributed around the World's main tourist destinations: Dominican Republic, Cuba, Spain (Peninsula, Balearic Islands and Canary Islands), Portugal and Morocco.
Why Be Live? At Be Live Hotels, we believe it's better to live life than to dream it. Our hotel concept aims for spaces that adapt to our guests and remind them where they are.
— Casa De Campo
Welcome to the most exclusive resort destination in the Caribbean—Casa de Campo Resort and Villas—a stunning 7,000-acre hotel, resort, and residential community in La Romana on the southeastern coast of the Dominican Republic.
Our tropical playground features a unique array of amenities, including an expansive marina, tennis and polo facilities, a world-class shooting center, three championship golf courses—including Pete Dye's masterpiece, Teeth of the Dog, the #1 ranked course in the Caribbean, and number 39 in the world—and so much more. Casa de Campo is also home to a variety of gourmet dining options, fantastic bars, and the one-of-a-kind 16th century replica Mediterranean village, Altos de Chavón.
The ideal place for family getaways, groups and conferences, not to mention destination weddings, Casa de Campo is a full service resort that is more a state of mind and way of life than just a mark on the map.
— Hard Rock Hotel & Casino Punta Cana
Thrilling gaming action in the biggest and best Casino in the Caribbean, an exhilarating nightlife, tantalizing culinary options, state-of-the-art meeting facilities and rooms worth tweeting about, all infused with our legendary rock and roll vibe? Delivered. This is Hard Rock after all. The best All Inclusive Resort in Punta Cana.
— Your Concierge
Your Concierge transformed the idea of traditional Travel Concierge services into a personalized 24/7 Travel Assistance to the Dominican Republic. Your Concierge provides the highest level of quality services. Whether it's for Leisure, Corporate meetings, B-Leisure, MICE, our services will be tailored up to your requirements.